WAV To MP3 Time-limited Giveaway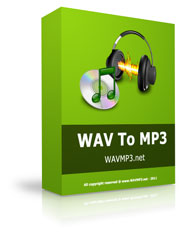 WAV To MP3 Converter

Original Price
:
$29.95 USD

Now for Only
$0 USD

Size
: 3.3MB

Giveaway Key:
REMOVED ON DATE

Share This Giveaway:

Share On Twitter
Follow Us On Twitter
NOTE
: This giveaway has been closed on Feb 5th, 2012.
About WAV To MP3
WAV To MP3
is a Windows application designed to convert WAV sound files to MP3 audio fast and easily. With
WAV To MP3
users are able to convert recorded wav sound files to MP3 for iPod or MP3 Player. Besides WAV to MP3 conversion,
WAV To MP3
also supports to convert WAV to FLAC format for audiophiles.